Tour "Hanukkah: Festival of lights"
Add to favorites✔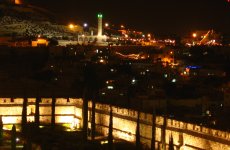 Tour Duration, days: 1
During the Hanukkah evening tour we will walk through the streets and sights of the Jewish quarter of the Old City. The eight days of Chanukkah city are literally immersed in light! In each window you will see candles burning - I'll talk about this a 2,2 thousand-year tradition, the continuation of which modern Jews consider their duty.

Together we will see lighting ritual of the luminary "Hanukiah", try traditional doughnuts ("sufganiyot") and we'll find out understand in the ancient and unchanging traditions of the holiday. The tour will be interesting (and even useful) as if it was for those who were in the Holy Land for the first time, and doesn't know anything yet about this topic, and those who are here for many years.
I'll tell you:
· Why the jewish sages hated the Hasmoneans and why did they tried to erase even the memory of them;
· What was the attitude towards Hanukkah in the Zionist movement;
· How to light Hanukkah candles;
· About other traditions and characteristics of the important Jewish holiday. And why in the same time, reprfesentatives of different religions celebrate holidays associated with the light - I will tell you during the second tour of this tour series around Christian neighborhoods among Christmas celebration.

Route:
The tour starts at the Jaffa Gate and ends at the Western Wall. We will go through the streets of the Jewish Quarter, and see:

· The ancient city walls of the First Temple (VIII century BC);
· Ancient Roman Cardo street;
· The main synagogue of the old city - Hurva, twice destroyed by the Arabs and three times restored from sketches and drawings. So now Hurva looks the same as in XVIII century;
· Houses that are remembered by the Crusaders;
· Ruins of St. Mary's Church, built by the Crusaders;
· A copy of the temple lamp (the Menorah).
Organization details:
The tour is held in the evening, when residents of the area have returned to their homes and light candles.

Duration: 3.5 hours.
Review
Add my review
Your review will be first!
My review... "Hanukkah: Festival of lights"
My ranking:
Comments from social networks
FaceBook

ВКонтакте
+7 (495) 668-07-04
+972 (52) 322-21-49

Office opening hours:
Mo. - Fr.: 10:00 — 19:00
Sa.: 11:00 — 17:00
Su.: 10:00 — 19:00
Feedback