Tour "The "Northern Kingdom" of Samaria"
Add to favorites✔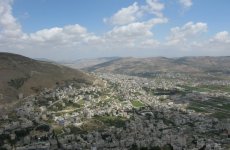 Tour Duration, days: 1
? Mount Ebal and the Tomb of Joseph
? Mount Gerizim – one of the two Samaria's highest mountains (881m above the sea level) in the vicinity of Shechem (Nablus). Mt. Gerizim forms the southern side of the valley in which Shechem is situated, the northern side being formed by Mount Ebal (940 m above the sea level). The mountain is sacred to the Samaritans who regard it as having been the location chosen by G-d for the Holy Temple. The Grizim and Eibal mountains were those to divide between themselves the curse and the blessing which the People of Israel received upon crossing Jordan. The national reserve and archaeological site (including the excavations of the ancient Samaritan temple)
? The Mount of Blessing's spring and winery
? The Samaritan village of Kiryat Luza built after the Six Day War of 1967
? The Samaritans' main place of worship – the site of Passover offerings
? The settlement of Itamar

? The settlement of Itamar consists of the central quarter and a number of residential areas and farms situated on the surrounding hills. The settlement owns some pastures, a poultry farm, a number of olive groves and vineyards, etc. This is an example of a flourishing agricultural community in Samaria.
?A visit to the Nekuda Kafrit farm (optional: a meeting with the farm's owner, Mr. David Itzkhak).
? A visit to the Giv'at Olam creamery (organic and kosher dairy products, eggs, etc.)
? The settlement of Elon Moreh
Elon Moreh is the first site where Abraham stopped after leaving his father's house in Haran. The history of the Jewish struggle for the return to Samaria.

? Mt. Kabir
Mt Kabir is situated nearby the settlement of Elon Moreh. From its top, one can observe three borders – the one with the Hashemite Kingdom of Jordan, the one with Syria (Mt Hermon) and the marine one. On the mountain slopes, there are some huge oaks, a shady grove and a sheikh's tomb. "The TANAKH lookout". If the weather conditions permit, one can enjoy a view of Afula, the Golan heights, Tel-Aviv, the Sartaba reserve in the Jordan valley, the tomb of Joseph and of the city of Shechem, where both Abraham and Joshua Bin-Nun placed the first altars after entering the Holy Land.

(Ascending the mountain is the matter of a group's general mobility level during the tour).
Review
Add my review
Your review will be first!
My review... "The "Northern Kingdom" of Samaria"
My ranking:
Comments from social networks
FaceBook

ВКонтакте
+7 (495) 668-07-04
+972 (52) 322-21-49

Office opening hours:
Mo. - Fr.: 10:00 — 19:00
Sa.: 11:00 — 17:00
Su.: 10:00 — 19:00
Feedback