Tour "Two shrines in one day"
Add to favorites✔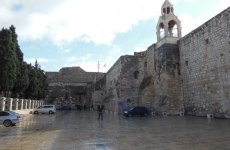 Tour Duration, days: 1
The most important Christian places of sanctity and 2000 years of history on the tour in Bethlehem and Jerusalem.

When talking to tourists visiting Israel from various countries, or people who live here, whose friends or relatives have come to visit, usually the same problem comes up - the lack of time.This one-day tour was planned with those people in mind. Within 5-6 hours you will visit the Church of the Nativity, the Church of the Holy Sepulchre and the Western Wall. You will see the most holy Christian sites and touch the ancient stones that has witnessed the events of the last 2000 years.

Program

• The starting point is in Bethlehem (Hebrew. Beit-lehem, which literally translates to Bread House), where for a thousand years before Jesus, David was born, the most famous of the Jewish kings, and, according to the New Testament, the ancestor of Christ. In Bethlehem also unfolded the life of the biblical righteous woman Ruth.
• In Bethlehem, we will visit the Church of the Nativity, which erected the Empress Helena, mother of Emperor Constantine. It is the oldest church, which has not been destroyed even once since the IV century!
• We will also visit the pilgrim center, where you can buy souvenirs, candles, oil and icons which we will sanctify in those holy places. There we will also be given a car, because Bethlehem has no public transport.
• From Bethlehem we will return to Jerusalem, enter the Old City through the Jaffa gate and visit the Church of the Holy Sepulcher.
• Then we'll visit the place of Christ's crucifixion - Golgotha, the Cave of the Patriarchs and the cave where St. Helen found the True Cross.
• We will visit the Edicule - the tomb where Jesus remained for three days.
• Then will will go and touch the Western Wall, which is sacred to all religious people.
• And if you have some free time, we can continue our acquaintance the next day. Since Israel has plenty of attractions and so many important historical events took place here, it's worth it to visit again and again, each time discovering something new.

Organization Details
If you have a car - great, if not, you can use public transport.The tour will end by the Western Wall, which is located near public transportation and a parking lot.

You must bring a passport, a hat, comfortable shoes, water and modest clothing with you.
Review
Add my review
Your review will be first!
My review... "Two shrines in one day"
My ranking:
Comments from social networks
FaceBook

ВКонтакте
+7 (495) 668-07-04
+972 (52) 322-21-49

Office opening hours:
Mo. - Fr.: 10:00 — 19:00
Sa.: 11:00 — 17:00
Su.: 10:00 — 19:00
Feedback