Guide Gadi Chelouche
Add to favorites✔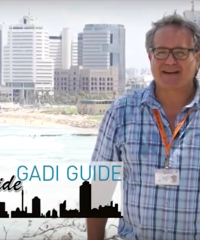 Phones:
+972523688080
Guide's info:
Age: 66
Sex: Male
Country, city: Israel, Tel Aviv
Languages: Hebrew, English
Religion: Judaism
Specializations: Philosophy, Old Testament, Adventure tours, Piligrims tours, New Testament, World religions, Urban legemds, Architecture, Archaeology, VIP tours
Please feel in the form and the guide will contact you shortly
Guide's daily wage $
About me
Welcome to Israel

My name is Gadi Chelouche, and I am a Private Tour Guide in Israel.
I am a 5th generation descendant of one of the families that founded Neve Tzedek, the first Jewish neighborhood outside of Jaffa. The stories of the first days of Tel Aviv have been told and re-told in my family for the past 105 years.

I have a Bachelor's Degree in The History and Geography of Israel as well as Business Administration.

I enjoy sharing my knowledge and making sure that my visitors get to see the highlights of each place; this ensures that we will get to enjoy our time together everywhere we go. I have been guiding in Israel and entertaining visitors from all over the world, touring the sites and discovering the history of the land of Israel - the Holy Land.
Transport
My private tour option includes a high class car to accommodate your needs and it, of course, fully insured. I can offer a variety of cars in any standards and size up to 15 passengers – just ask me for a special quotation for "Eshkol" services.
There are many different ways to travel: One can walk, fly or drive and even travel by boat. Most of us do it daily without paying any attention to the view on the way: people, nature, culture and other things.
With me you will not just go from one place to the other, we will look at Israel from inside, trying constantly to ask questions, trying to learn and understand: Why have so many countries been involved here? How are trees for Africa growing here? Why are there so many minorities in Israel?
History, Geography. Architecture, Nature, Culture, Economics and Arts are just a partial list of the fields that I will share with you.
Tourists reviews Gadi Chelouche
Add my review
Your review will be first!
My review about a guide Gadi Chelouche
My ranking:
Comments from social networks
FaceBook

ВКонтакте
+7 (495) 668-07-04
+972 (52) 322-21-49

Office opening hours:
Mo. - Fr.: 10:00 — 19:00
Sa.: 11:00 — 17:00
Su.: 10:00 — 19:00
Feedback